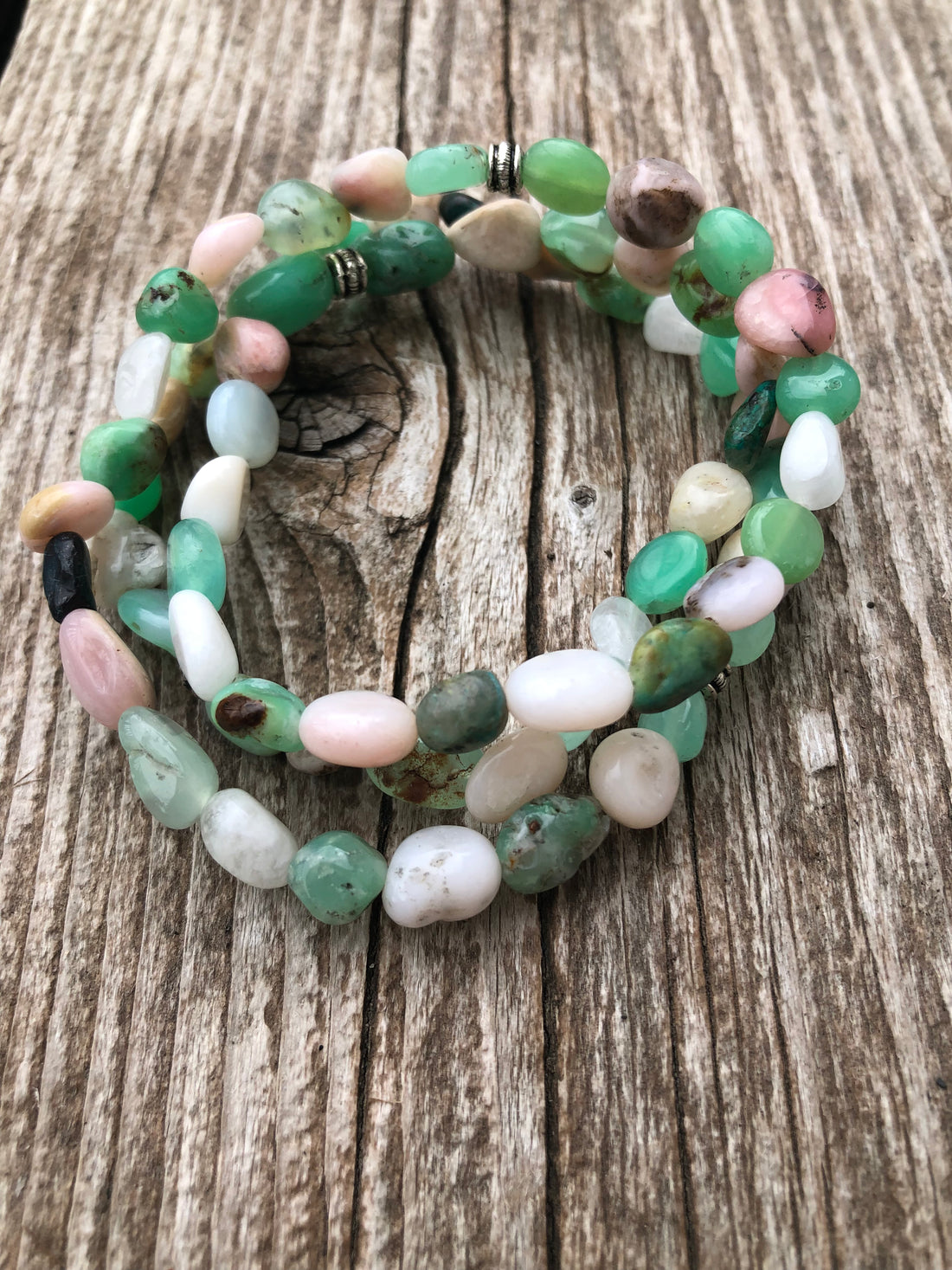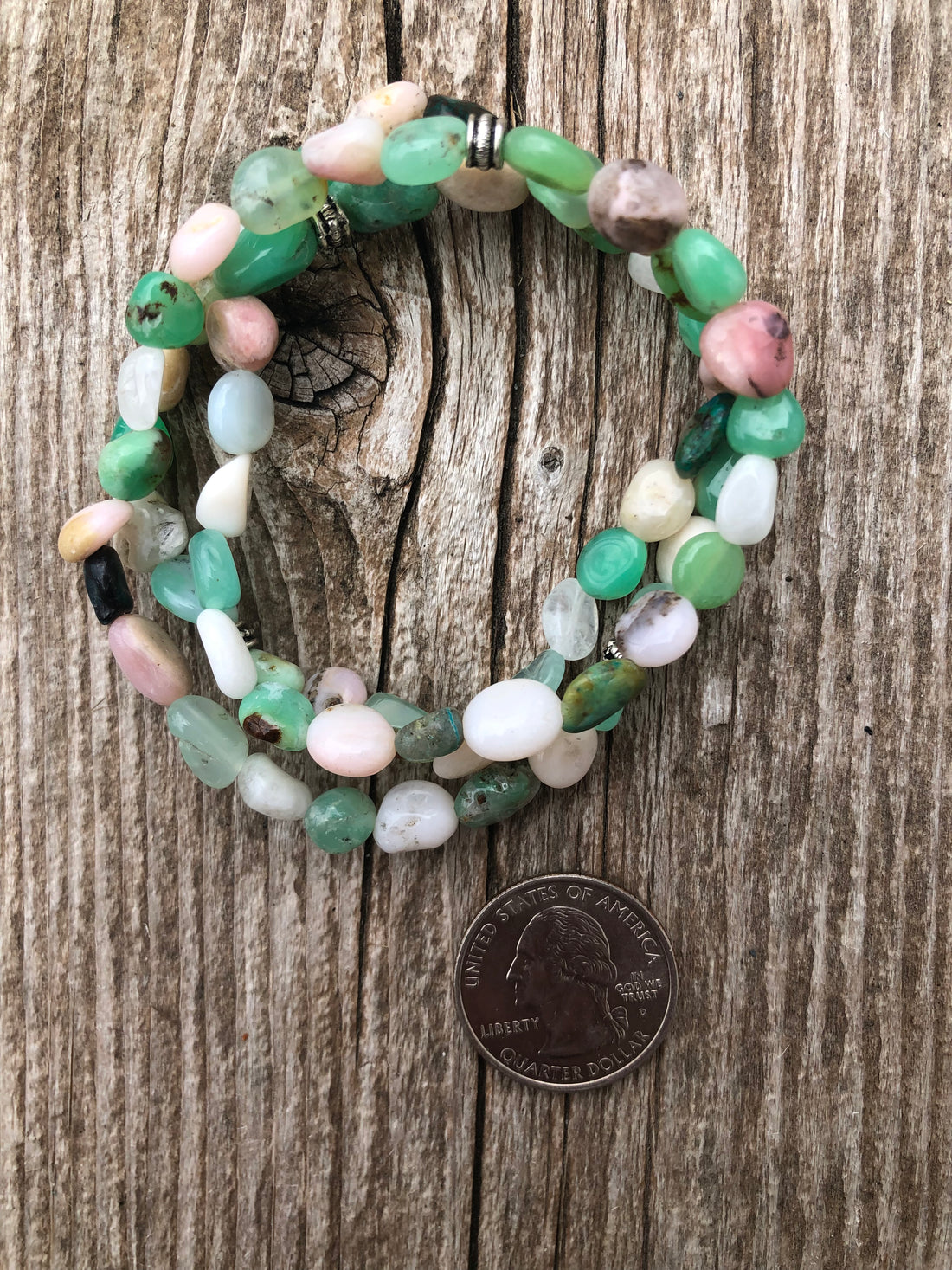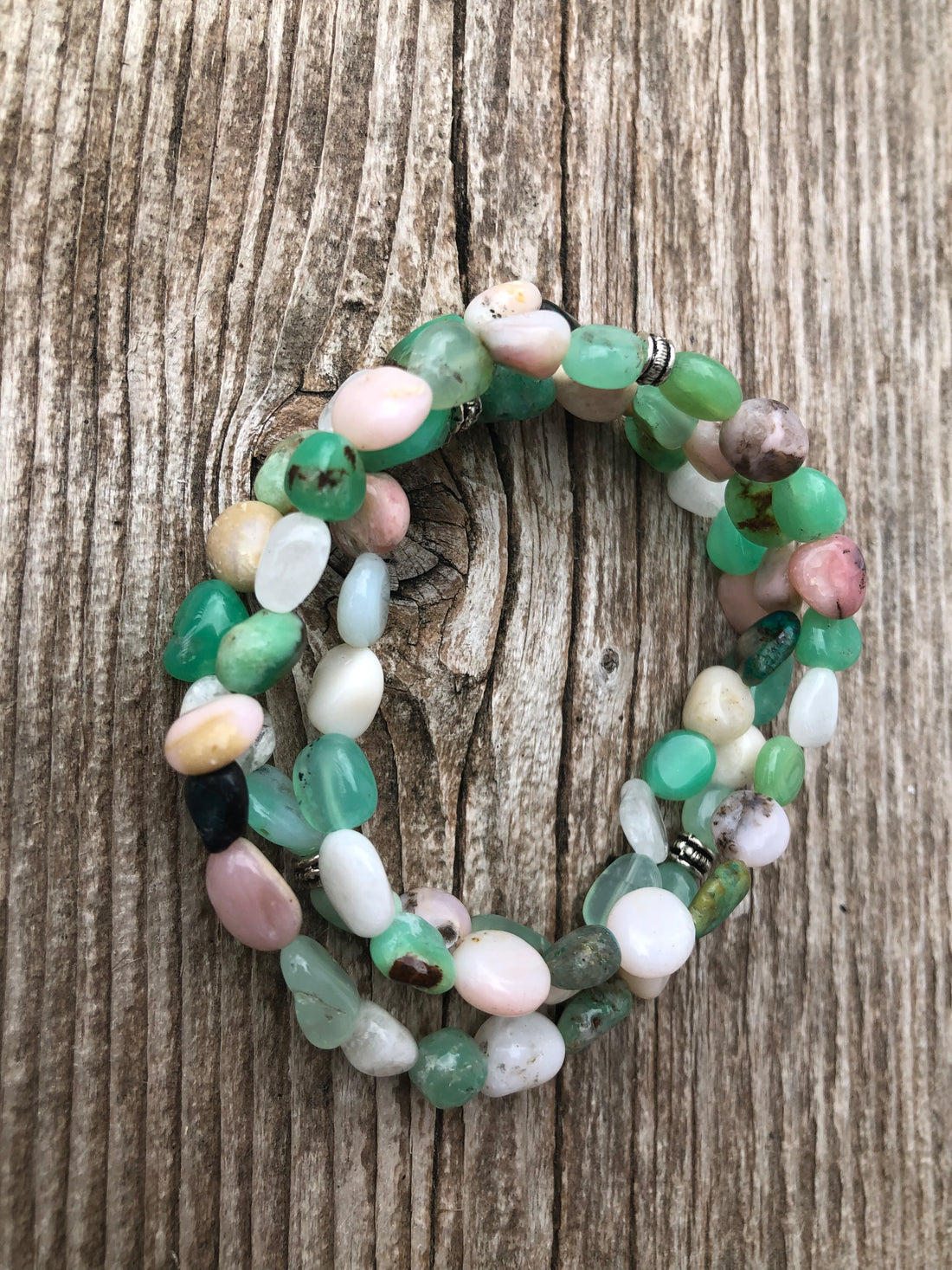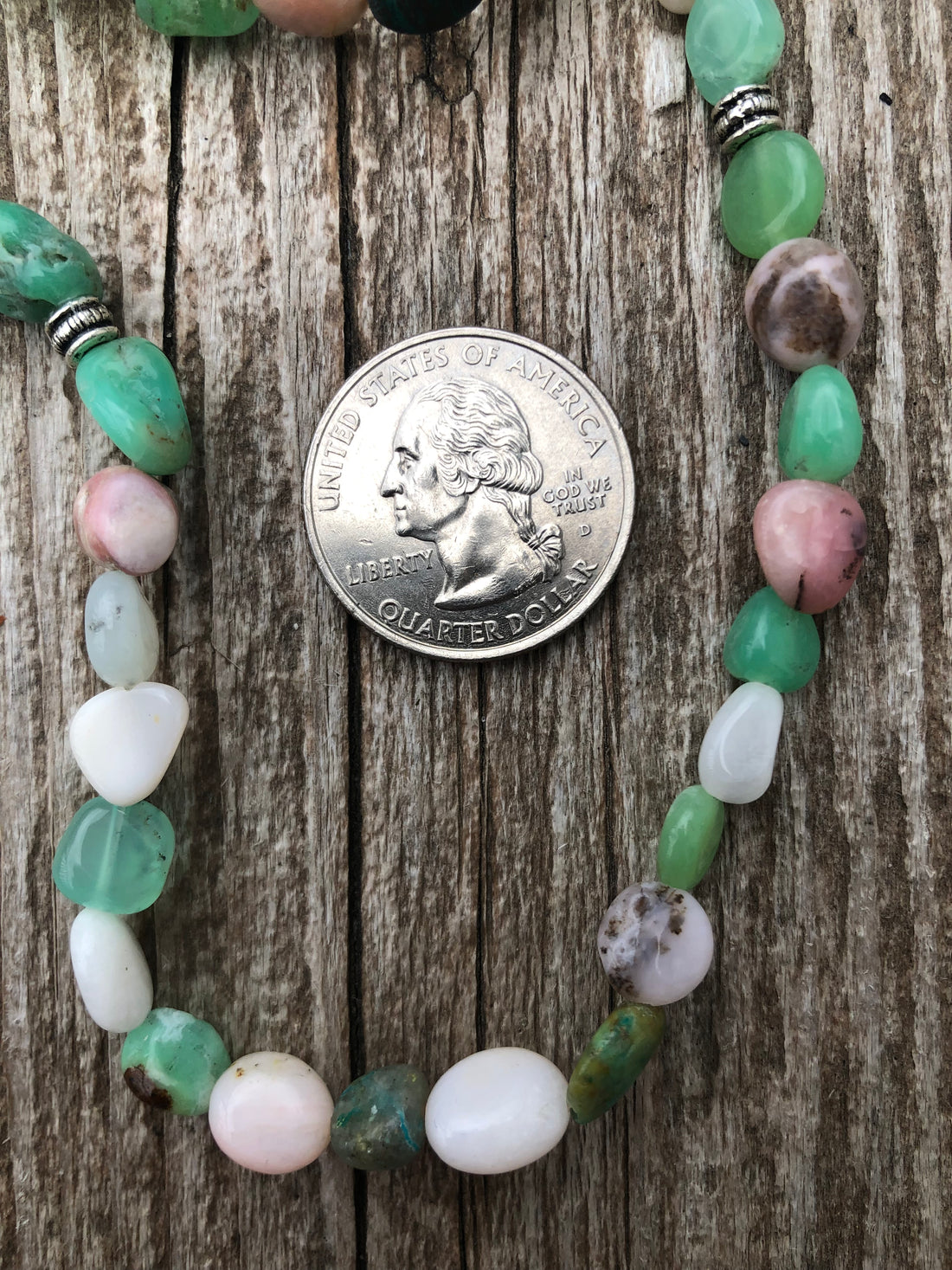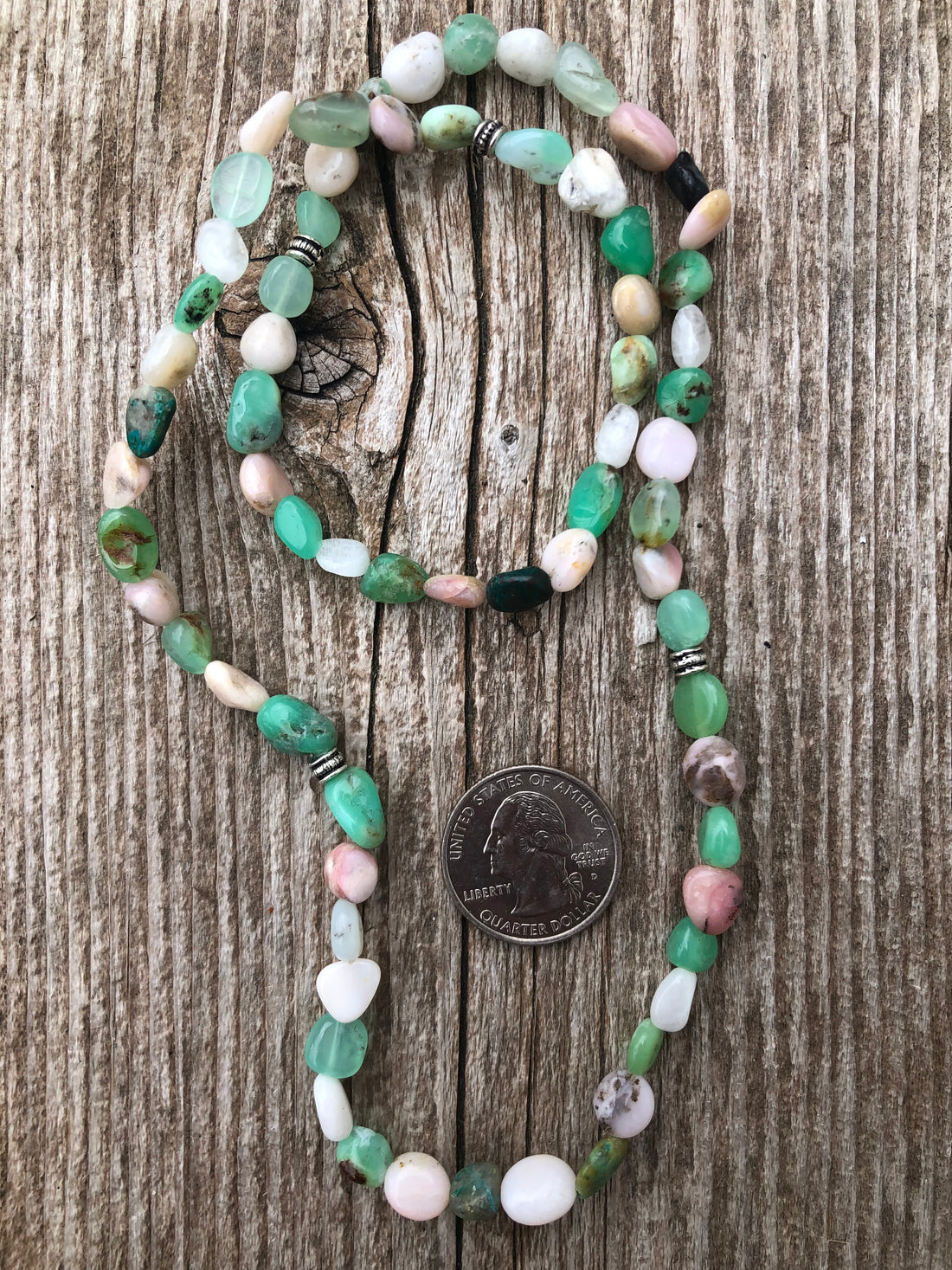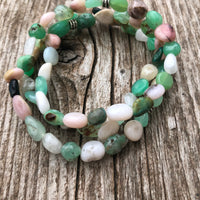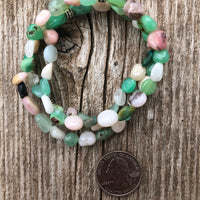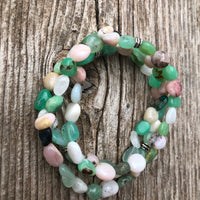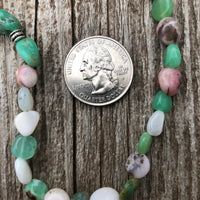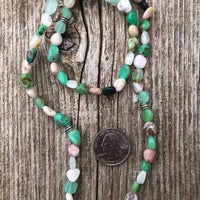 Chrysoprase, Pink Opal, Moonstone & Chrysocolla Wrap Bracelet for Heart Centered Awareness
Chrysoprase, Opal, Moonstone and Chrysocolla Bracelet/Necklace
Chrysoprase is believed to remind us we are a part of the divine and may help bring divine energy into the body. This is believed to be a great stone to use during meditation. It may help to bring a love of truth, hope, and insights. It is believed to connect to the heart and sacral chakras. This stone is thought to protect against egotistical motives. It may help us to move past judgement and find acceptance. This is believed to be a great stone for peace and relaxation. It may bring a sense of trust and confidence that may help to break codependent tendencies. Pink opal is called the karmic stone. It is thought to pick up on thoughts and feelings, amplifying them and returning them to source. It is a delicate stone with a fine vibration. It may enhance consciousness and psychic and mystical visions. This stone is believed to absorb and reflect thoughts, feelings and energy. It may show how what is put out comes back. It is also thought to be very protective. When you get to know this stone, you may be able to program it to help be unnoticed. It may enhance feelings of self worth. It was associated with love and passion in ancient times. It may help intensify emotional states and may help release inhibitions. This is a stone for someone who is well centered to ensure it doesn't scatter energy. Wearing an opal is said to bring loyalty, spontaneity and faithfulness. Moonstone for intuition and for new beginnings. Chrysocolla brings tranquility, stability, and serenity. It calms, cleanses and energizes all chakras that help to align your being with the divine.
Gift bag and description card included. Bracelet is approximately 6.5 inches when wrapped 3 times. It can also be worn as a necklace. 


I want you to have the best experience possible. I provide description cards that are based on folklore and not a guarantee of outcome. Stones are not meant to replace medical treatment.  
Please seek medical advice from a professional should you need help.
My website is powered by Shopify. You can pay through my website with Shopify, Shop pay, Apple Pay or PayPal. No matter how you pay, your payment is processed by that vendor. Your payment is secure.